Meet Our Teachers!
What sets First Street Yoga apart from yoga at other studios? The answer is our yoga teachers. Collectively our teachers, Julie Ellen, Jen Zimmerman-Bronder, Ann Fleckenstein, and Carol Daly have over 1500 teacher training hours and 15 years of teaching experience. Our teachers are and have been part of Mt. Vernon and the broader community since 2016 teaching at local yoga studios and a variety of other yoga venues in Iowa City, Solon, North Liberty, Cedar Rapids, and nationally/internationally at yoga retreats in Colorado, Costa Rica, and Indonesia. Learn more below … "Yoga Teacher Bios"…
Yoga Teacher Bios:
Julie Ellen, RYT- 500: Julie is new to Eastern Iowa and new to First Street Yoga! She is registered with Yoga Alliance with the designation RYT-500. The first 200 hour training was completed in 2011 with Julia Theisen at Body and Soul in Dubuque, IA and the follow-up 300 hours was completed in 2018 with Regina DeWitt of Prana Yoga in Sarasota, FL. She is also a licensed massage therapist. Though enthusiastic for all things yoga, Julie has a particular commitment to Chair Yoga because of its broad appeal.
Jen Zimmerman Bronder, RYT-200: Jen teaches Hatha Yoga which is influenced by two trainings, one in the Anusara Yoga style and the other in the Para Yoga style. Her classes blend the physical poses with breath work and meditation. She continues to expand her knowledge by attending workshops and training that focus on the healing, therapeutic aspects of Yoga.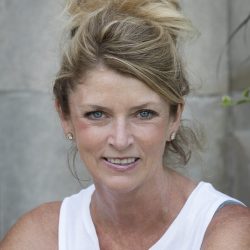 Ann Fleckenstein, RYT-200: Ann teaches Hatha Yoga for flexibility, strength, balance, concentration and relaxation. Ann is a registered yoga teacher (RYT-200) and completed her yoga instruction through Cloud Nine Yoga Teacher Training. In addition to the practice of Hatha Yoga, Ann also brings insight and instruction into Patanjali's eight limb path of Yoga which offers guidelines for "yoga as an entire lifestyle." Ann enjoys teaching and learning and being able to bring Yoga to the community in a way that makes Yoga obtainable for all level of students.
Carol Daly, DPT, RYT- 500: Carol completed 200 hour yoga teacher training with Fannie Hungerford in 2016 and an additional 300 hours of teacher training with at the Himalayan Institute in 2018. Carol's approach to teaching yoga draws from traditional yoga theory and contemporary knowledge of the mind and body to encompass the complete scope of yoga. Carol's strongest held belief is that yoga is accessible to all who are interested in giving it a try.